Das Rheingold – R. Wagner
Tarnhelm Opera is set to bring Das Rheingold by Richard Wagner to venues in the West of England and South Wales in the autumn of 2019.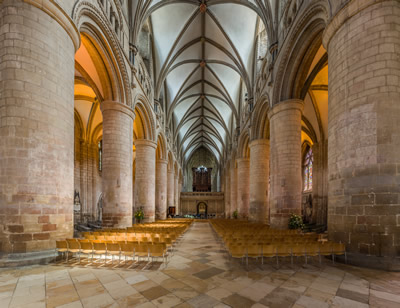 Gloucester Cathedral
The Gloucester performance of Das Rheingold will take place in the nave of Gloucester Cathedral. The cathedral organ and an array of percussion instruments will support the music while the magnificent architecture will add to the drama.
Saturday 19th October 2019
7.30pm - 10.00pm
Tickets: £25 (projected)
Concessions for children and students
Please
join the mailing list
for news of when ticket sales open.
Further venues are under consideration, including St Mary Redcliffe (Bristol), Worcester Cathedral, Hereford Cathedral, Exeter Cathedral, Tewkesbury Abbey, Llandaff Cathedral, Malmesbury Abbey, The Victoria Rooms (Bristol).
Tarnhelm Opera is open to suggestions for further venues and to expressions of support for those listed.